Deseret News & Joe Cannon "Endorse" Civility Utah!
(Happy News for 1/11/04)
---
What a wonderful week of good tidings! The Deseret News and GOP Chairman Joe Cannon have essentially "endorsed" Civility Utah and our approach to restoring sensitivity and peace, and have condemned our vicious counterpart, Accountability Utah.
Topics:
1. Civility Utah Gets the Wink & Nod
2. Down with Accountability Utah!
3. Rep. Pat Jones Stands Up to Accountability Grinches!
Civility Utah Gets the Wink & Nod
Now, we understand that the Deseret News and Republican state chairman Joe Cannon, who also serves as a board of directors member of the Deseret News Publishing Company, need to maintain some outward distance from Civility Utah and our important activities. But one only need read between the lines of their recent editorial board opinion piece to see the true meaning of their expressions.
"…Incivility goes much deeper into the fabric of a society… When people approach political discussions by attacking, defaming and castigating without addressing issues or respecting differing views, they are being uncivil.

"Civil people lift everyone through their manners and their attitudes. They respect differing views and celebrate differences in culture and thought, even as they express their own well-considered opinions with passion. A civil society is a civilized society. Unfortunately, there is much around us, from popular television shows to the way people interact on the street, to indicate that incivility is gaining an upper hand.

"As we did last year, we intend to be a catalyst in restoring civility. We will spotlight both the good and the bad… We will continue to speak out on all matters of concern throughout 2004, but we intend to keep domestic abuse and civility in the forefront of public debate.
Source: "Our goals for the year 2004," editorial board, Deseret News, Dec. 30, 2003.
Did you see how many times the word, "civility" was used! The way we read it, this is just short of an open endorsement! Give them all a raise over there! Full speed ahead!
Down with Accountability Utah!
Speaking of incivility, that evil has a name: Accountability Utah. These ne'er-do-wells have sunk to a new low, viciously assaulting several Democrat neighborhoods with nasty fliers and harsh words on Christmas Day. We know our public servants are wonderful people looking out for our best interests!
Striking discord and disharmony with every mile, they and their narrow-minded followers caravaned through quiet neighborhoods, unabashedly sowing their savage seeds of discontent and attempting to steal Christmas from our restful public shepherds!
The Deseret News also appropriately condemned this horrific activity. From their editorial board opinion, "Yule protests in bad taste":
"...Then came the knocks on the door from Accountability Utah, a self-described parents' rights organization, decrying certain lawmakers' voting records on child welfare issues. They distributed pamphlets lamenting the so-called tyranny of the state Division of Child and Family Services, which they claim has wrongfully removed their children from their homes. Then the protesters attempted to deliver fliers to the targeted lawmakers' neighbors.

"All on Christmas Day.

"It strains logic that members of this organization believe that disrupting lawmakers' holidays is going to win any favor with the Utah Legislature. Not only did these visits alienate legislators, it offended some of their neighbors. Our hope is that lawmakers aren't wrongly impugned for the inconsiderate acts of this organization since the fliers delivered to the neighbors of at least one lawmaker did not identify the organization staging the protests. Instead, it urged area residents to call the lawmaker to complain.

"Of all days, why Christmas? Why agitate on the day Christians celebrate the birth of the Prince of Peace? There's obviously a place for peaceful protest, but not on Christmas."
Amen! These Accountability Utah malcontents even manipulated our public icons, including Governor Olene Walker, Attorney General Mark Shurtleff, and the Utah Republican Party. In an article prior to their "event", Republican state executive director Chris Bleak warned:
"Bleak said he notified GOP state senators, House members, Attorney General Mark Shurtleff and Gov. Olene Walker's office, with the hope that Shurtleff and Walker will give those handling Division of Child and Family Services cases "a warning" that they may not want to be home between 10 a.m. and 2 p.m. — the time posted on the Accountability Utah Web site for the home visits.

"I'm not notifying Democratic (legislators). My guess is this group will be visiting" Republicans, said Bleak. Republicans hold two-thirds majorities in both the Utah House and Senate, while Walker and Shurtleff are Republicans. And several of the founders of Accountability Utah have been active in GOP politics for years and critical of GOP leaders."
Source: "Yule protest plan assailed," Bob Bernick Jr., Deseret News, Dec. 24, 2003.
Accountability Utah actually visited only Democrats, with the exception of one Democrat-friendly legislator, Sen. Dan Eastman, and did not visit the homes of any DCFS workers.
Our question is this: How many long-time public servants had to endure Christmas in fear, wondering whether they would receive a knock at their door by this flagrant mob of meanness?
We join the Deseret News and the Republican leadership in utterly condemning this madness. We only wish the Republicans would have opened their tent of protection to these poor Democrats.
We can only add our hopes to those of the Deseret News that Accountability Utah will no longer curry the favor and respect of our lawmakers:
"Our hope, however, is that this organization will take a more reasoned approach in its efforts. The group's members can only hope that, after their Christmas Day shenanigans, they have enough credibility left for lawmakers to take them seriously."
We at Civility Utah echo the chastisement of our partners in civility at the Deseret News and Utah Republican Party, and are so excited at the prospect that Accountability Utah will no longer enjoy their free and preferred access to, and status with, Utah's elite decision-makers.
Civility Utah would like to issue its own warning. These people need to be stifled and avoided at all costs! If you see an Accountability Utah drone, run away as fast as you can!
Rep. Pat Jones Stands Up to Accountability Grinches!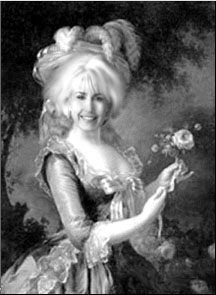 Rep. Pat "Marie Antoinette" Jones
"Let them eat cake!"
Democratic lawmaker Rep. Patricia Jones, like Queen Marie Antoinette of old, courageously took a public stand against the mean-spiritedness and malevolence of those Accountability Utah low-lifes. She told KSL Channel 5 (affiliated with the Deseret News):
"Today's a special day for everybody, and I think it's unfortunate that they would use Christmas morning to make a political statement. That doesn't make any sense to me."
Now, historians disagree whether Queen Antoinette actually responded to her disgruntled peasants with the famous line, "Let them eat cake." But we feel that Rep. Jones encapsulates the grace and grandeur of a queen. Her dignified indifference to those uppity brats freezing outside is so courageous and impressive!
---
If you have comments or suggestions, please email us at info@accountabilityutah.org.