Casey's Sister, Caylee, is Freed
& Attends Memorial Service
(News for 11/12/03)
---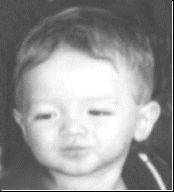 Caylee Barrow was finally freed from foster care today at 11:00 AM. She was returned to her family under a temporary kinship placement until a permanent hearing can be held.
She was able to attend today's Citizen's Memorial Service for her baby brother, Casey Barrow, who died tragically in the Utah foster care system on October 23, 2003 (the foster mother has been criminally charged with Casey's death).
Update for 5/9/05: The foster mother pled guilty.
Attendees at the service heard from family members seeking answers and comfort, and also learned that Casey had been beaten and deprived of food by previous foster care providers.
The family was touched by the outpouring of citizen support today. It was a moving service and served to strengthen the commitment to protect and cherish life.
May Casey be at peace and may we never forget or ignore what happened to him. May his family also find peace and comfort.
Note: The service was held on at noon at the Redwood Memorial Cemetery. For more information on the service, see our news item on it and a copy of the service invitation (in .pdf format).
If you have comments or suggestions, please email us at info@accountabilityutah.org.