Memorial Service for Little Casey,
Who Died Tragically in Foster Care
(News for 11/05/03)
---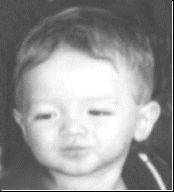 Citizens will hold a memorial for Casey Barrow, whose life was tragically ended on October 23, 2003, under suspicious circumstances while in the Utah foster care system.
Members of Casey's family have accepted our invitation and will be in attendance. Come show them that you care. Let them know that Casey will be remembered, and what happened to him will not be ignored.
The service will be on Wednesday at noon, November 12, 2003, at the Redwood Memorial Cemetery (6500 S. Redwood Road).
In case of weather, we have arranged for some outdoor covering, but do recommend an umbrella and warm clothing. For more information, or if you have special needs, contact Kathy Gritton at (801) 572-2283.
Please make sure to copy the service invitation (in .pdf format) and share it with your family, friends, and neighbors.
If you have comments or suggestions, please email us at info@accountabilityutah.org.