March 17 is Candidate Filing Deadline for State Legislature!
(Alert 1 for 3/14/04)
---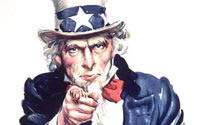 Summary: Will you allow your state senator or representative to go unchallenged this November? Or will you step up and lead? You have until March 17 (this Wednesday at close of business) to act!
It is Up to YOU!
Citizens need leaders who have integrity, are decent, and have a desire for freedom. If you meet those qualifications, it is up to you to step forward and attempt to hold your elected officials accountable for their actions.
First, see who has filed to run already in your senate and representative district. Do any of these candidates represent your views? If not, what will you do to ensure that you or some one you know files for office?
For motivation, see our Legislative Performance Report, our Bill Summary page for the 2004 session (which includes links to actual votes on crucial bills), and our Pink Slip Reports.
To find out which state senate or house district you are in, call your county clerk or visit the senate and house interactive maps.
Filing Requirements
Requirements to run for state senate or house (see the Lt. Gov's requirements page):
U.S. citizen;

25 years old at time of election;

Resident of Utah for 3 consecutive years;

6 consecutive month resident of the House or Senate district at filing deadline; and

Qualified voter at time of election.
You can file for office at the state elections office or your local County Clerk's Office. The filing fee is $13 for representative and $26 for senator. Someone from the Lieutenant Governor's office or the County Clerk's office can walk you through the necessary paperwork.
For additional information, you might investigate the party you wish to be affiliated with (it is probably too late to collect the required signatures to run as an unaffiliated candidate (see Utah Statute, starting with 20A-9-501):
Note: Accountability Utah does not support or endorse candidates for political office. If a volunteer supports or endorses any candidate, it should be viewed as his personal opinion, and not the opinion of the organization.
---
If you have comments or suggestions, please email us at info@accountabilityutah.org.