Citizens' Memorial Service for
Casey Barrow this Saturday
(News for 10/19/05)
---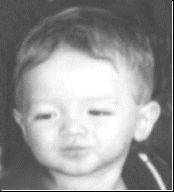 Each year, citizens hold a memorial service for Casey Barrow, an infant who was murdered by his "foster care provider" two years ago on October 22, 2003. Casey had been beaten and deprived of food by previous "foster care providers" because his skin was white.
The service will be held THIS SATURDAY (October 22) at 11 AM, at the Redwood Memorial Cemetery (6500 S. Redwood Road).
Casey's murderer was entitled to a trial by a jury of her peers in an open court. She plead guilty. Unfortunately, like thousands of other Utah parents, Casey's real mother never had the right to a jury trial prior to having her boy seized by the Utah Department of Child and Family "Services" (DCFS), was never charged with a crime, and will never see her boy again in this life.
This will be the third year citizens have come together to remember this tragedy and to reflect on our government and our individual and collective responsibility to seek justice. Family members will also be in attendance. Please join us.
Note: In case of weather, we are requesting that the mortuary provide a pavilion. Still, we recommend that you bring an umbrella and adequate clothing. For more information, or if you have special needs, contact Kathy Gritton at (801) 572-2283.
---
Accountability Utah recipe: Take our information and opinion, research their information and opinion (if it is available), and then examine the law and draw your own conclusions. If you have comments or suggestions, please email us at info@accountabilityutah.org.
For more information on this illegal aliens, see the Parental Rights (Due Process) section of our Issues & Alerts page.